New Baby Flowers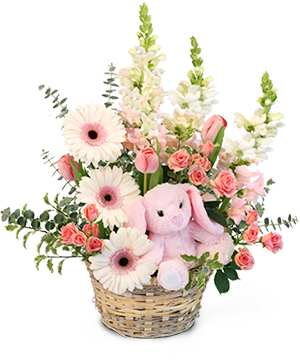 Tiny Pink Blessing
Basket of Flowers
This lovely basket arrangement will take their breath away! With exquisite white gerberas, beautiful pink snapdragons, gorgeous light pink tulips, vibrant pink spray roses, a soft pink plush, and more, Tiny Pink Blessings will bring joy to everyone who receives it. Send your loved ones this magnificent basket today!
More Info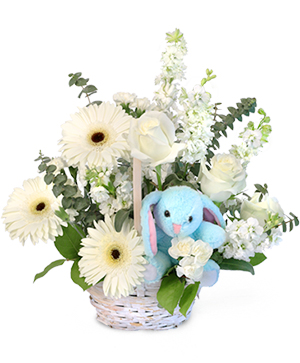 Tiny Blue Blessing
Basket of Flowers
Tasteful and timeless, this gorgeous basket is sure to inspire! Featuring gorgeous white gerberas, lovely white larkspur, beautiful white mini carnations, stunning white roses, a soft blue plush, and more, Tiny Blue Blessings will be a stylish addition to any room. Send some blessings to the ones you love today!
More Info
In luie of COVID-19, we are safe and proud to continue servicing our community for over 30 years. Our flower sources in Ecuador, South America, California, and Florida are all being affected by the crisis. We are happy to deliver green plnats, blooming plants, gifts and other items to our customers. Thank you for trusting us with all of your floral needs and we are honored to continue to be your florist of choice.
Flowers of Las Colinas in Irving has great gift ideas on hand for any new mommy or baby. Help welcome the new addition to the family with a beautiful flower arrangement or gift. Flower centerpieces add to the decor of any baby shower, and every new mom needs a corsage for the event. Hoping for a unique shower gift? Customized new baby gift baskets are always a great way to let someone know you care. We will fill your new baby gift basket with gourmet snacks, bath products, fun jewelry and accessories, flowers, or stuffed animals that are sure to excite any new mommy. Top off your unique baby gift with a balloon bouquet. Shop online from our selection of baby floral arrangements designed with a baby girl or baby boy in mind, stop by our store, or give us a call to place an order for something extraordinary.